Rochester Reads 2019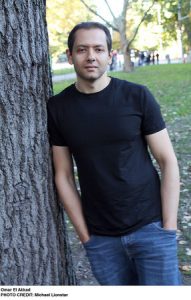 American War by Omar El Akkad
Reading and Book Signing by the Author
Wednesday, March 27, 12pm-1:30pm
Kate Gleason Auditorium
Offered in partnership with W&B
Watch Random House's 'Meet the Author' segment here
"El Akkad has written a novel that not only maps the harrowing effects of violence on one woman and her family, but also becomes a disturbing parable about the ruinous consequences of war on ordinary civilians." — Michiko Kakutani, New York Times.
Read the full NYT review (March 27, 2017) here
Omar El Akkad was born in Cairo, Egypt and grew up in Doha, Qatar until he moved to Canada with his family. He is an award-winning journalist and author who has traveled around the world to cover many of the most important news stories of the last decade. His reporting includes dispatches from the NATO-led war in Afghanistan, the military trials at Guantànamo Bay, the Arab Spring revolution in Egypt and the Black Lives Matter movement in Ferguson, Missouri. He lives in Portland, Oregon. His debut novel, American War, was published to critical acclaim in the Spring of 2017.