FFRPL Blog: Withdrawn, But Not Forgotten
Tens of thousands of books find their way through The Library Store each year. This blog is dedicated to highlighting some of the hidden gems among them. All books reviewed here will be available for purchase in The Library Store – but don't procrastinate – we usually only have one copy!
Blog entries are submitted by FFRPL volunteers. They do not necessarily reflect the opinions of the Friends & Foundation of the Rochester Public Library, its trustees and employees, or the Central Library of Rochester & Monroe County and its trustees and employees.

D-Day: Don't have a harbor? Then build one.
Arromanches, History of a Harbour: Mulberry Harbor, by Lt. Col. Alain Farrand (1997) SC pamphlet, $2
If the Allies were going to invade France they would need a harbor to offload men and supplies, but Germany controlled all the French deep water ports, and was unlikely to want to share. So, what to do? How could the Allies keep the ocean calm enough that large ships could dock and unload? How could those unloaded men and supplies then be transported the long distance to shore? Could this harbor be built strong enough to last the months it would take to capture a real deep water port? Mind you, at Normandy shore tide changes are over 15 feet, currents strong, and storms frequent and severe.
The two "Mulberry" harbors, one each for the American and British landing areas, would consist of an artificial breakwater made of scuttled ships and concrete caissons. These breakwaters would keep the ocean waters calm. Inside the breakwaters would be docks, complete with cranes and anti-aircraft guns, that connected to the shore with mile long floating roadways.
The whole Mulberry Project was high risk. Scientists had to survey the beach area while German sentries were nearby. In the midst of war scarcities, massive amounts of concrete and steel had to found. (Some of the breakwaters were 5 stories high and weighed 6,000 tons.) 50,000 workers had to be transferred from other war jobs. No one knew if the plan would work.
Construction took 8 months. Those huge concrete caissons actually did float across the Channel! The Germans didn't catch on, even when they saw the caissons floating a mile off shore. The harbors were installed in days. Unfortunately a gale would soon destroy the American one, but the other would still be working well 8 months later.
I wish this pamphlet was larger. The print is small, and so are the photos. But what a thrill to see the impossible done.
Submitted by KB June 5, 2019
A Sad Faith in Hitler
The Wave of the Future: Confession of Faith, by Anne Morrow Lindbergh (1940) HC, a cup stain on the cover, $1
In 1939 Charles Lindbergh was trying to arrange for peace between the United States and Germany. His wife, Anne Morrow Lindbergh, wrote this book in support of her husband.  I should feel angry when I read this book. FDR certainly did. Yet mostly what I feel is sadness. She would be proved to be so very, very wrong.
Her husband was the famous flier who in 1927 was the first to fly solo across the Atlantic. He immediately became a world celebrity. Anne married him in 1929. She and her husband would explore the world together. When their baby son was found dead after a kidnapping-gone-wrong the world wept with them.
Charles, though, would start to associate with Nazis, make anti-Semitic remarks, travel to Germany and even be given a medal by Hitler. All this happened before Hitler invaded Poland, but afterwards Charles refused to return the medal. His popularity began to dim.
In this 41 page book Anne writes of her hope for the future, both for Europe and the United States. She sees violence in Europe as an ugly, but possibly necessary means to a better, more progressive, more democratic world. She thinks the United States with its strong character and ability to reform itself will be able to become a truer democracy by not becoming involved in the problems of Britain and France. Anne is concerned that others in America do not feel as she does. She hates that her country is so divided.  She cannot understand why many of her fellow Americans are so angry and panicked.
She was thought to be a good person. And a smart one. How could she be so blind? How could Hitler fool her, and others, for so long? That is the question that I keep asking myself.
Submitted by KB June 5, 2019
Toronto's WWII Norwegian Flight School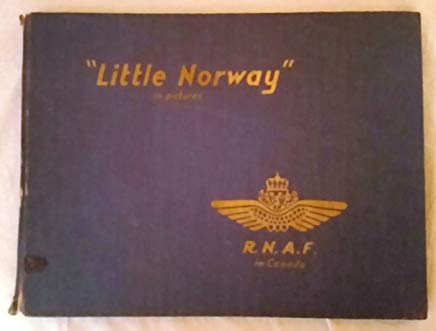 Little Norway in Pictures: With Supplement, Norway- Yesterday and Today, the R.N.A.F. in Canada (1943?) HC, 1$
This book, with its beat up cover, weak binding and many small grainy pictures, does not look special, but it is.
Norway, after 125 years of neutrality, had just been invaded and conquered by Germany. This book is the story of a bunch of brave Norwegians fighting back by joining her air force, its flight school now relocated all the way to Toronto, Canada. This new flight school, called 'Little Norway", would graduate 2,500 pilots, flight crew and maintenance staff to help fight the war in Europe.
Norwegians came to Canada either the "hard way", sailing across the North Sea, or the "easy way", by way of Russia. (Either way sounds impossible to me!) Some of those who made it were experienced pilots. They would run the camp and train the men. The planes, built in the U.S., would be paid for by the Norwegian government out of income from Norway's merchant marine ships.  Gifts of money and goods also poured in from Canada, America, Scandinavia and even South America.
These men are photographed studying, training, exercising, flying and even having some fun. There are also a few pictures of weddings, and sadly, a few of funerals. When this book was written there was no guarantee that the Allies would win. There are no pictures in this book of men feeling fear, anxiety, grief or loneliness, yet those feelings must always have been in the background. Regardless, these Norwegians did what they set out to do. They became airmen, went to Europe and proved themselves to be superior fliers.
What makes this book special? It is these men, who traveled all the way to Canada, risked so much to learn to fly, and then flew so bravely to bring about an allied victory, and independence for their country. I feel inspired when I read their story. How about you?
Submitted by KB June 5, 2019
Recipes Written in a Concentration Camp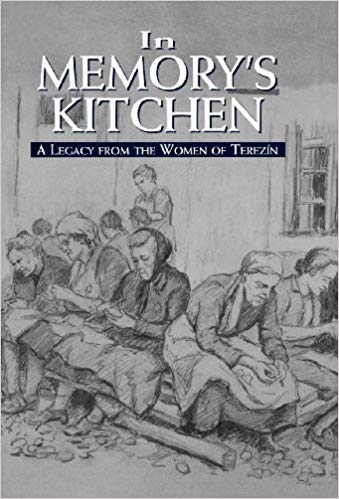 In Memory's Kitchen: A Legacy from the Women of Terezin, edited by Cara De Silva (1996) SC, $1
Mina Pachter's daughter and grandson managed to escape to Palestine in 1939. Mina — who stayed at home — would die five years later in a Czechoslovakian concentration camp. It would take twenty five years for her hand- bound collection of recipes to find its way to her daughter, who was then living in the United States. The book's pages were brittle and the writing sometimes shaky, but Mina's legacy had survived.
Food and cooking were a major part of a Czechoslovakian woman's life. Cooking was how she sustained her family, how she could both carry on tradition and be creative. Cooking helped define who women were, as mothers, wives and members of their community. Many women wrote and collected recipes for books to pass on to their families.
Living in a concentration camp may have made doing this more difficult but not necessarily impossible. Mina and the other women at Terezin continued to think and talk of food. They would even argue passionately over how meals should best be made. When they had paper they would write out their recipes. All this while they and their families starved, suffered and many times died. As Michael Berenbaum, director of research at the US Holocaust Memorial Museum, writes in the foreword, "Recalling recipes was an act of discipline that required them to suppress their current hunger and to think of the ordinary world before the camps – and perhaps to dare to dream of a world after the camps."
I've now read this book several times. I still can't get my head around the idea of writing down recipes while starving. The recipes themselves look so very normal, but knowing how they came to be written makes them hauntingly special. Mina Pachter, you are not forgotten.
Submitted by KB May 30, 2019
The Difficulties of Making a WWII Air Combat Suit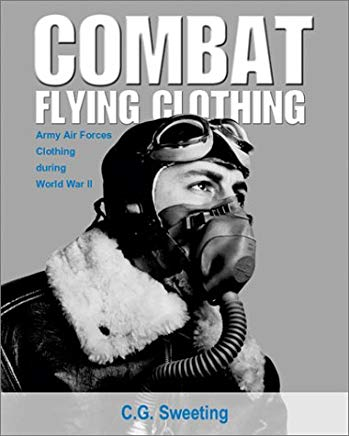 Combat Flying Clothing: Army Flying Clothing through World War II, by C. G. Sweeting (1984) SC, $4.
Remember those WWII movies when the airmen always looked so great in their air suits or bomber jackets? Had you ever wondered how this clothing was produced?
Early combat clothing was anything the airmen had around. At first it was goggles and scarves. Then it was football helmets, with ski suits for the cold. After WWII started something better was needed, and needed immediately.
The process was complicated. Designers and scientists had to get together to develop clothing that was resistant to cold, fire, oil, and seawater. It also had to be durable, flexible, and not too bulky, as inside a plane there was never much room to move around. The suits also had to be comfortable in both tropical and dry heat, as well as the cold.
After being designed, the suit had to be mass produced, which meant finding factories and workers. Material to make the suits had to be obtained, quite a feat when even basic materials were scarce. Alternatives for steel, wool and cotton had to be found. Sometimes you could use something else instead, but many times a material, like rayon or artificial rubber, had to be invented.
When planes and tactics changed, so did combat air suits. Further into the war planes flew higher, faster and for longer. This meant, just for starters, adding oxygen masks and heated clothing to prevent frostbite. It also meant dealing with full bladders, a subject not mentioned in war movies.
How amazingly complex was the job of making combat flight clothing, and what an amazing book!
Submitted by KB May 30, 2019
The Orient-Express: Seats Still Available!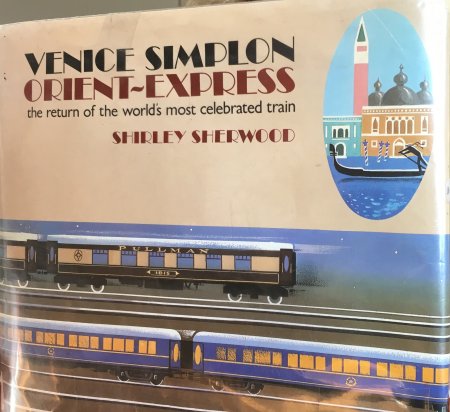 Venice Simplon- Orient-Express: the return of the world's most celebrated train, Shirley Sherwood (1983) HC, 160 pages, fully illustrated, $1
Do you love trains, Art Deco or simply the story of a man fighting for his dream? If you do, this is, oh, so the book for you.
The first trains offered only a cover over your head and a seat to sit on. Later trains became sturdier and safer. They also became more luxurious, with electricity, bathrooms, sleeping cars, and dining areas. The 1920s may have been the golden days for luxury train travel, but even in the 1950s heads of state still took the train, at least sometimes. By the 1960s, trains were just too slow and too expensive to compete with planes. In 1977 the great Orient-Express made its last trip from Cairo to London. All its cars and goods went to auction. And that was that.
Except James Sherwood, owner of a shipping company, had the dream of resurrecting his beloved Orient Express. First he located and bought some old cars, most in really, really bad shape. Then he restored them. Most of the interiors, including the mosaics and marquetry, had to be repaired. (Amazingly the son of one of the original marquetry craftsmen was still in business!) The cars themselves had to be brought up to code, which meant fire retardant on the walls, safety glass for the windows, new wiring and of course better brakes. New silver, china and fabrics needed to be designed and manufactured. Finally, and most importantly, Sherwood needed passengers to buy tickets to ride his train. Was he crazy to think anyone would be interested?
What a task Sherwood took on. Remember this was not simply a historic restoration. He had to both bring these antique cars up to modern safety codes, as well as make them durable enough for long term commercial use.
Thirty four years later the "new" Orient-Express is still running.  Who wants to go with me?
Submitted by KB January 3, 2018
Edward Gorey – Unique, or Just Plain Weird?
The Iron Tonic, or a Winter Afternoon in Lonely Valley, Edward Gorey (1969)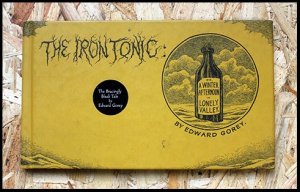 No one writes or draws like Edward Gorey. He depicts very properly dressed Victorians, but they never speak or do anything but walk or stand around. They exist in a world filled with stark, lonely buildings and landscapes. The settings in Iron Tonic are even starker because it is winter and the days overcast. The ground is covered with snow, so it's supremely quiet. Add to all this the items scattered about or falling from the sky – clocks, bundles of eels, tombstones, massive threatening birds, even dead babies….
Well now do you know why people call his art "unique"?
Gorey's art is described as both Surrealist and Gothic. His prim and proper Victorians share their gloomy, silent space with objects that don't belong. His detailed drawings are usually in black and white, their dark areas made by slashes of a pen. Like in dreams, the real sits next to the unreal.
Gorey felt shy and insecure even after he was famous. He was brilliant, graduating from Harvard in 1950. He loved literature, art, dance, music and even television commercials. When he died he owned 25,000 books. Oddly, Gorey saw himself as primarily an author, drawing only to illustrate his writing. He also designed stage costumes and scenery, winning a Tony in 1978 for "Dracula." Of course he also did the art for the introduction to PBS's Masterpiece Theater. What an amazing creative genius.
Some of his drawings leave me puzzled, but most leave me nervous, insecure and very unsettled. I want to flee, but I am trapped, stuck with my fear and anxiety… at least until I turn the page.
Submitted by KB May 25, 2017
"The Angel of the West" Was Born a Slave
One More Valley, One More Hill: The Story of Aunt Clara Brown, Linda Lowery (2002)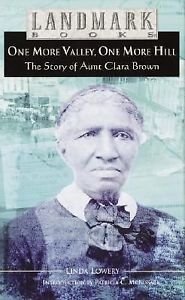 Clara Brown was born a slave in 1802. She was sold twice, once when she was three, and once as an adult when she had to watch her husband and children sold to other people. She was strong, and so was her religious faith, and so she managed to survive.
Her new master sometimes beat her, but when she was 56 he died and left her money in his will. In addition, his daughters decided to buy her freedom. Moving west to St. Louis she was able to find work as a cook and laundress. By the time the family she worked for moved away Clara had earned enough money to set up her own business.
When gold was found in Colorado, Aunt Clara decided to move further west. She got free passage on a wagon train by working as a cook and laundress for 26 men. Since she was black she couldn't ride, but had to walk the entire two month journey.
In Denver she started a new life. As a laundress, cook, mid-wife and healer she earned a LOT of money. She invested quietly in property and mining claims, which only increased her wealth. She was always generous with her money. She used her wealth to start churches, pay for ex-slaves to immigrate to her community, and provide food and shelter for the destitute miners and freed slaves already there. She also paid for women to go to college. Everybody knew and respected her, even the white community leaders. People called her "The Angel of the West."
By age 80, Clara's health and investments had both deteriorated. She had been swindled out of money by a real estate manager, and spent most of the rest helping others. Her one great fear was that she would die without finding her lost family.
Lowery tells in detail the story of the first black pioneer woman in Colorado. Clara Brown- what an amazing woman.
Submitted by KB May 22, 2017
The Ocean at the End of the Lane
The Ocean at the End of the Lane, Neil Gaiman (2013)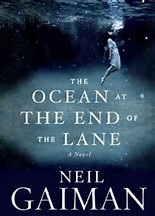 This book's beginning is stark. The main character, never named, wrote, "Nobody came to my seventh birthday party." His mother had games, cake and 15 chairs ready. But no one came. The child ate some cake and then went to his room to read. "I liked that", he shared. "Books were safer than other people anyway." Ouch, most of us remember a time as a child when we were disappointed, though hopefully not as badly.
Later the boy becomes friends with three farm women at end of his road. His experiences with them start out fine, but quickly turn into a nightmare. The women try to protect him, but are even they powerful enough?
These happenings are retold when the boy, now middle aged, comes home for a funeral. Whose funeral? We are never told. What a strange book, and not one I would have thought I'd like. How do I describe it? Is it a fairy tale? A paranormal experience? Or a story of a mentally unstable boy trying desperately to cope with reality? Was the pond at the end of the lane ever an ocean? Or was it always only a pond? I like to categorize things, but this story refuses to be categorized. After much thought I've realized, at least in this case, that it doesn't matter what kind of book this is. It only matters that it is magical. Its story swept me up and took me to strange places – some sweet and comforting, some dark, ugly and evil. It's been three weeks since I read this book, but whether real or fairy tale, I still remain haunted by the ocean at the end of the lane.
Submitted by KB May 15, 2017
Napoleon Bonaparte, the Inspiration for Tony Hillerman
Bony and the Mouse (1959), and Madman's Bend (1963)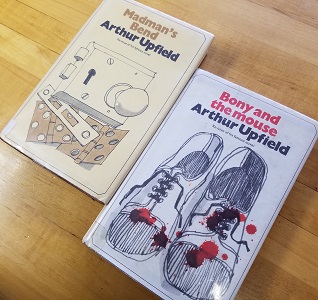 Tony Hillerman was inspired by Napoleon Bonaparte- no not the French general but Arthur Upfield's police detective. Upfield was not someone you would expect to be a mystery writer. He had lived for years in the Australian outback, doing just about every job there was- cattle driving, cook, opal miner and so many more. He wasn't a very good writer. There wasn't even any sex! Neither critics nor readers liked his writings. Strangely it was WWII American soldiers arriving in Australia that discovered his books. When they couldn't find enough copies in Australia an American publisher came to the rescue. These cheap paperback editions were banned in Australia, but his American readers bought enough to make him famous.
His unusual hero was a half cast Aborigine, raised by missionaries, who went on to grad school and a distinguished police career. Because of his brilliance he could observe obscure clues. He was a strategic planner, a result of his upbringing in the white world. He was also spiritually in tune with the land, patient, humble, and a good tracker, traits inherited from his mother. When undercover he could blend in no matter where he was. Sadly, being of mixed races he never really fit in. At times he was torn when his two heritages were at odds.
After reading these books I became interested enough to research Aboriginal history. Till 1967 they couldn't vote, and their children were still brutally removed from parents even up to the 1970s. I can't imagine the horror of those experiences. I also doubt, that in reality, a half caste would ever be given the power to arrest a white person, much less to become a detective inspector. So, sadly, these books are all rather a fantasy.
These books are still great reads. I love the descriptions of outback life and of the harsh and beautiful land. I love how Bony methodically figures out "who done it". My favorite book is Mouse, but you will enjoy them both.
Submitted by KB February 16, 2017

Soldier Bear
Wojtek the Bear: Polish War Hero, Aileen Orr, author (2014)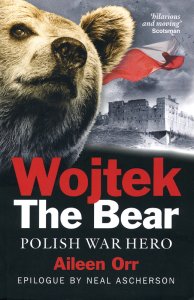 This is the true story of a brown bear, named Wojtek (pronounced Voy-check), bought by Polish political prisoners just released from a Siberian prison. These men walked to Africa with the bear cub they had purchased with a can of meat. After the war when they went to a Scottish Resettlement Camp the bear went with them.
Normal male brown bears are aggressive and loners. Needless to say they don't like to be touched. But no one had ever told Wojtek he was a bear, so he and his soldier friends had to figure things out as they went along. Wojtek turned out to be friendly, gentle, patient, playful and oh so very mischievous. He loved to be touched, and he loved to touch. He especially loved to wrestle. He also loved to eat. Finding enough food for him was a problem. In wartime food was highly rationed, yet daily he still needed 20,000 calories. Somehow food was found, and without the loss of local livestock. Wojtek might play with them, but he never hurt them.
One day, after watching his friends move artillery shells, he decided to help. He went over to a truck, picked up a shell, and walked it to the storage area. For him, walking on two legs carrying an artillery shell seemed to be the right thing to do. He continued to do this until he decided it was time for a nap. No wonder the army made him a private!
Wojtek made friends wherever he went, both with soldiers and local civilians. In particular he brought joy and laughter to his Polish soldier friends, men with neither families nor a country. Most were illiterate, and didn't speak English. They were all alone in a strange land, but they had Wojtek and he had them.
As the camp emptied, it became obvious a home for Wojtek had to be found. With tears all around he was transferred to a Scottish zoo. His story would make the news again in 2005 when a statue was made to remember him.
This is the best story I have read all year. Buy it and you won't be sorry.
Submitted by KB February 1, 2017
Paper Graffiti Art- Art or Graffiti?
Sticker City, paper graffiti art, Claudia Walde (2007)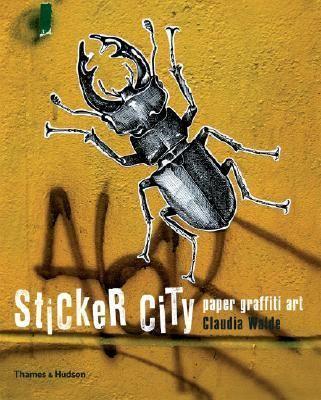 Alright, I'll be honest. I expected to dislike this book. I hate the whole idea of graffiti, a form of what I consider vandalism. Little did I know there are differences between paper graffiti art and graffiti. Mainly, paper graffiti is not permanent. Paper artists create their messages using different materials like posters, stencils, or stickers. The art, if it is art, never lasts more than a few years. Some lasts less than a month.
This way of expression started in the 1950s when the advertising industry began taking over public spaces. Later, as costs of creating art rose, and with less exhibition space available, fewer people could display their work. Even art that was exhibited would be seen by only a few. Paper graffiti artists rebelled, creating art on walls. (Or maybe they just liked decorating walls?)
Who does this stuff? Unlike teenage graffiti artists, these people are usually older. Some of them probably switched from graffiti when they became tired of jail time. This form is freer, with less rules than graffiti. Yep, graffiti has rules. As printing, adhesives, photocopying, and computer software improved, so did the ease and cost of paper art, but you still have to know which paper, glue and kind of wall surface works best.
Did this book change my mind about paper art? Both yes and no. This form of art is still vandalism of private property, but it also produces a wonderfully unique personal expression or message. Some of the works have profound social themes. Some are simple, some just weird. Many are mischievous, and made me laugh. Swoon's work, using life-sized cut-out figures, is elegantly beautiful. I would dearly like to see her work, and even some of the other artists'. Yet I have questions. Is this really art? What do the owners of the buildings think of this "art"? How would I feel if it happened to my property? The answers aren't as simple as I thought.
Submitted by KB January 27, 2017
Rowing across the Atlantic – A new world sport
Salt, Sweat, Tears- The Men Who Rowed the Oceans, by Adam Rackley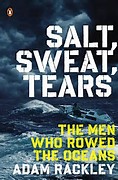 No one even considered rowing across the Atlantic till 1896 when George Harbo, an immigrant to America, wanted a way to become famous and rich.  He knew he would do just fine as long as he could find a boat, a rowing partner and the Gulf Stream current. Of course there were those 2,500 miles of open water to navigate. These amazing two men took on wet clothing, lack of sleep, capsizing, thirst, hunger, salt water sores, rogue waves, ice bergs, a hurricane and even a fire. They became really good rowers. They also became really, really good at bailing. Somehow he and his partner reached Ireland, and in only 55 day! Unfortunately few people paid to hear their story. So much for dreams of fame and fortune.
Eventually in 1966 someone tried again. David Johnstone decided to deal with his depression by making another cross-Atlantic attempt. He made detailed plans, found a partner, and had a boat made. Learning that someone else was going to do the same thing, he decided to start out immediately, even without the planned physical preparation, or his boat's sea trials. At first life wasn't too bad. Each man rowed 8 hours a day. This left them lots of time to eat well, talk and more importantly, to sleep. Eventually, though, they began to doubt their abilities.
The other rowers, Ridgeway and Blyth, had problems of their own. They had only 10 weeks to get ready, no boat and no experience. Blyth had never even been to sea. What they did have was discipline and tenacity. Each rowed 16 hours a day, in bad weather and good, even after they lost a third of their food. Physically they were always in rough shape, but still they kept going, reaching Ireland after 91 days. Unfortunately Johnstone and Hoare never did.
Rackley's book mostly describes his own 2010 experiences. I admit to being more interested in those earlier tales of 1896 and 1966.  Later rowers, with their bilge pumps, sliding seats, solar panels and GPS, have an easier time of it. Now more than 300 boats have made it across some ocean or another. Having a bilge pump or not, crazy a little (or a lot), these men are true athletes. Hats off to them all.
 Submitted by KB January 24, 2017
365 (minus 15) Cars, Old and New, But Mostly Old
Roadside America, 365 Days, by Lucinda Lewis (2003)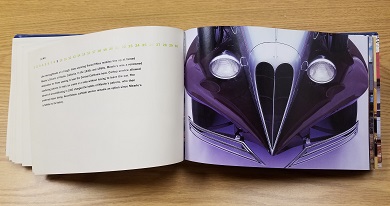 I always thought the male fascination with cars was silly. Cars are just things that take us where we want to go. After I bought my first car, though, a 1979 Datsun 210, I realized that loving your own car might not be so silly after all. Then one day I was invited to ride in a souped up 1964 GTO with a massive racing stripe down its hood.  It was love at first sight. I still get excited when I see a classic car, especially if I can poke my head inside.
Most of the cars in this book, and the occasional truck, are old, but a few are newer. Most photos are in color, but strangely the few black and white ones affected me more. I love the hood ornaments, the tail fins, and the front grilles. I even love those vinyl seats, so blazing hot in the summer. I love the Route 66 diners and filling stations. I love this book, even if 15 of the photos are "missing".
When it comes to my favorites, I'd have to mention both the weird 1938 Phantom Corsair and its plane cockpit instrumentation (including an altimeter), and the 1937 air conditioned Airmobile prototype that looks like a goldfish!
Did I mention I love this book? It's for sale in the Rundel Library Bookstore, and only for $1.
Submitted by KB January 13, 2017