Harold Hacker Fund for the Advancement of Libraries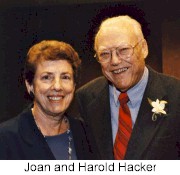 The Harold Hacker Fund for the Advancement of Libraries provides support for projects and services above and beyond those made possible by the normal operating budgets of Rochester Regional Library Council (RRLC), the Monroe County Library System (MCLS)/Rochester Public Library (RPL), the Pioneer Library System (PLS) and their member libraries.
All contributions to the Hacker Fund are placed in the Endowment of Rundel Library Foundation with the income to be disbursed to one of the two following project areas:
1. To further education and professional development for librarians and library staff throughout the five-county region served by Rochester Regional Library Council.
2. To further innovative library projects and programs at RRLC member libraries and the Monroe County Library and Pioneer Library Systems and their member libraries.
As the Director of the Monroe County Library and the Rochester Public Library Systems for twenty-four years, Harold Hacker was instrumental in bringing all of the town libraries in Monroe County on board to form the Monroe County Library System. Harold developed a system that allowed all residents in the county to use their library cards at any member library and have materials delivered through interlibrary loan to their local libraries.
Rochester Regional Library Council owes its existence – and in no small way its successes – to Harold Hacker. He was the driving force behind the creation of public library systems in New York State and the leader of a movement that created the nine New York regional library councils. These consortia, which include public, academic, medical, corporate, special and school libraries, work cooperatively, sharing their resources and expertise to better serve all library users.
Harold challenged the library community continually to work together to provide the best library service in the country. He provided the spirit, the tools and the leadership to enable those around him and those who came after him to take on the challenge. Harold's priority has always been to expand the scope and increase the availability of library services.
Income designated to this area will continue Harold's legacy of enabling libraries in the Rochester region to take the risks necessary to provide the best customer focused service possible.
To give a gift today, complete the Special Projects Donation Form and mail to FFRPL, email donna.borgus@libraryweb.org or call (585) 428-8321 or (585) 428-8322.