Robert & Georgianna Becker Fund for Local History in Memory of Walter F. Becker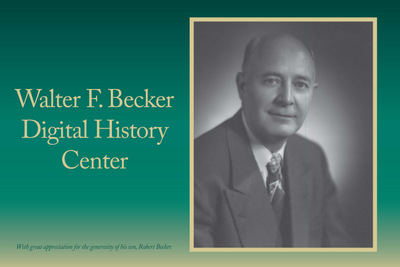 In 2015, the Local History & Genealogy Division of the Central Library of Rochester & Monroe County dedicated the Walter F. Becker Digital History Center.
Made possible by the Robert & Georgianna Becker Fund for Local History in Memory of Walter F. Becker, the Becker Center transformed a space that largely had been a passive study area into an interactive, collaborative center where people can discover, create, preserve and share local and family history in ways never before possible.
The Fund continues to help the Central Library protect and preserve fragile and rare items in the Local History and Genealogy Division with the development of a Preservation Room and the digitization of materials.
In the Walter F. Becker Digital History Center, Library users now have free access to the following:
state-of-the art digital microfilm and microfiche readers/scanners
document and photograph scanning equipment
analog-to-digital video conversion tools
a listening and viewing station where they can access local history documentaries and films, oral history interviews and music
an interactive lab where students and community groups can come together to explore and develop their own histories.
Bob is an avid family historian and genealogist. He completed his first family tree when he was fifteen, and has since completed family histories for his wife, Georgianna, and for many of their friends.  Having spent countless hours in the Local History and Genealogy Division doing research, Becker appreciates the early census materials in addition to the wealth of "unique and wonderful information stored throughout the Central Library."
The first time Bob Becker realized the possibilities of the digitizing program at the Rochester Public Library was about 2009.  He had a fragile 1932 edition of a group of poems by Edward Lear, which included a childhood favorite: 'The Owl & the Pussycat.' Bob knew his beloved 75-year-old book was on highly acidic paper and was in danger of falling apart, and he sought to preserve the book by having it digitized.
Bob was invited to watch the Library's Kirtas 1200 digitizing machine in action (purchased by FFRPL with a generous grant from the Gleason Foundation) and he was absolutely thrilled when the process was completed and he received a CD of his book, while another copy went into the Library's archive.
Since then Bob Becker has been committed, through significant gifts, to helping the Local History & Genealogy Division of the Rochester Public Library be a leader in the field of both preservation and presentation of historic materials.
In recognition of his remarkable generosity and long-standing support of the Library, Robert Becker was given FFRPL's 2014 Harold Hacker Library Lifetime Achievement Award, given each year to a library supporter who exemplifies Harold Hacker's commitment, love and support of libraries.
Harold Hacker served as the Monroe County Library System and Rochester Public Library Director from 1954-1978, as well as the first Executive Director of Rochester Regional Library Council and the first Pioneer Library System Director. Harold Hacker was not only a leader, but also a visionary in the library field, at the forefront of efforts designed to advance the status of libraries, increase the linkages between them and further universal access to library and information services.